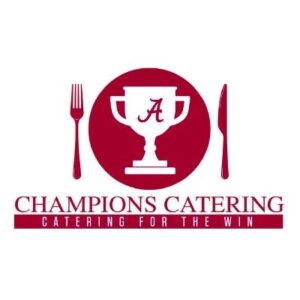 What's better than dinner you don't have to make? Dinner at YOUR door! Dinner at Your Door is back on Tuesday, May 9th – reserve your meal today! Champions Catering will be preparing the delicious meals, and you can choose from two choices of entrées below:
Option 1: Blackened Chicken with a Pineapple Relish, Spring Salad with an Herb Vinaigrette, Herb Grilled Bread, Chocolate Cake infused with Smoked Honey topped with Coconut Cream Cheese Icing and a sprinkle of Cherries.
Option 2: Sweet Tea Brined Pork Chops with Bacon Jam, Baked Ziti, Roasted Green Beans, Spring Salad with a Dill and Preserved Lemon Dressing, and Banana Fosters Cake
Meals are Parcooked
Parcooking refers to the technique of partially cooking foods so that they can be finished later. This technique allows foods to be prepared ahead of time, and quickly heated prior to serving. Since the second reheat finishes the cooking process, foods are not overcooked as leftovers often are. All bags will include re-heating instructions for a standard kitchen oven
Meal delivery is available up to 15 miles from campus. You can save $5 by picking up your meal from Mal M. Moore Athletic
Facility located at 1091 Coliseum Drive between 4:00-6:00 PM.
ORDERS CLOSE MAY 1ST AT 6:00 PM