Developing the Potential of Women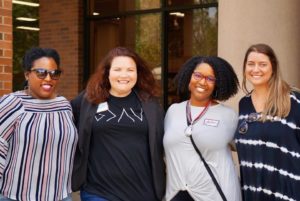 The Junior League of Tuscaloosa is part of a network of more than 291 Junior League Organizations across the globe. We are a 501(c)(3), nonprofit organization, whose members are dedicated to promoting voluntarism, developing the potential of women, and improving communities through the effective action and leadership of trained volunteers.
Our commitment has remained unwavering: to develop exceptionally qualified civic leaders who can identify a community's most urgent and pressing needs and address them with meaningful and relevant programs and initiatives that not only improve lives, but change the way people think.
The Junior League—the 150,000 women empowered to lead in 291 Leagues in the United States, United Kingdom, Canada and Mexico—have amassed an archive of irrefutable results and an undisputed reputation as thoughtful and influential change agents for the public good. Our organization has been instrumental in championing education and literacy programs, children's cultural development, school nutrition, vaccination, the Clean Water Act, and heightened awareness around domestic violence and alcohol abuse.
By continuing to use the site, you agree to the use of cookies. more information
The cookie settings on this website are set to "allow cookies" to give you the best browsing experience possible. If you continue to use this website without changing your cookie settings or you click "Accept" below then you are consenting to this.