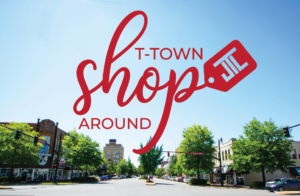 October 21 – November 17, 2019
The Junior League of Tuscaloosa's favorite fall fundraiser! This staple fundraiser for the League partners annually with local businesses to offer discounts to shoppers who purchase the card. Discounts of up to 20 percent are offered for the purchase of this $20 card. Expect to see classic favorites and new faces on our 2019 card!
Pre-sales now open for cards to be picked up and shipped beginning October 7.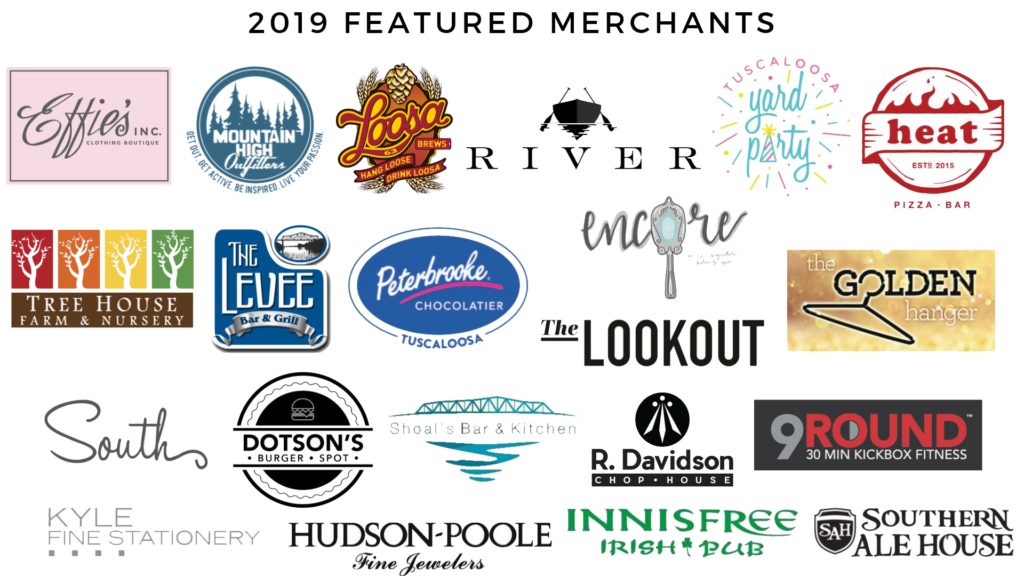 2019 Merchants
10% off discount at:
Blenz
Brick and Spoon
Carpé Vino
Dotson's Burger Spot (c, d)
Farmbowl & Juice Co. (h)
Gourmade Kitchen (e)
Heat Pizza Bar
Heritage House Coffee & Tea (l)
I Love Juice Bar (f)
Innisfree Irish Pub (c, d)
Local Roots
Loosa Brews
Mary's Cakes & Pastries
Peterbrooke Chocolatier (i)
R. Davidson Chophouse (c)
River (c)
Shoals Bar & Kitchen at Hotel Indigo
Side by Side
Southern Ale House (c, d)
Spa Belle La Vie (f)
Sweet Home Food Bar
T-Town Cafe
Taco Mama (l)
The Levee Bar & Grill (c)
The Lookout Rooftop Bar at Hotel Indigo
Which Wich Superior Sandwich Shop
15% off discount at:
Hudson-Poole Fine Jewelers
20% off discount at:
9Round (b)
Bossi
Confetti Interiors (f, j,k)
Crawford McWilliams Art (u)
Effie's
Ella Cole Boutique (f)
Encore Salon & Spa (p)
Ernest & Hadley Booksellers (f, s)
Freeman Chiropractic (g)
The Golden Hanger
HydraLive Medical Spa
Ivy House Boutique (f)
Kentuck Art Center Gallery Shop (m)
Kyle Fine Stationery (r)
LA Bikini (n)
Left Hand Soap Company (f)
Lily Pads
Mountain High Outfitters
Northport Pharmacy & Gift Gallery
Pants Store (a)
Pure Barre (q)
Soca Clothing (f)
South Boutique (o)
Stephanie Kirkland Art
Tree House Farm & Nursery (t)
Tuscaloosa Yard Party
Store-Specific Exclusions: Stores that have this exclusion in place have the appropriate letter(s) beside their listing above.
a. One ladies' clothing item only
b. 12-month membership
c. Alcohol
d. Catering
e. Baby Bites & Kate Bakes Cookies
f. Cannot be combined with other offers
g. Chiropractic services
h. Clothing/ hats
i. Corporate gift orders
j. Discounted furniture
k. Consignment artwork
l. Dine in and take out only
m. Items in exhibition space
n. Products
o. Repurposed Louis Vuitton
p. Services by Crystal Inglis & Jessica Kuykendall; Saphira products; Young Living oils body waxing
q. Socks
r. Custom design/ printing; Special event offerings
s. Used and rare books
t. Wholesale, services, and Christmas
u. Use code TTOWN2019 at crawfordmcwilliams.com; excludes orders paid for via gift card
*Sale merchandise, special commissions & custom orders, and gift certificates are excluded at all participating vendors